Almost anything goes in Cambodia, when it comes to food, so a trip here will result in many delicious (and daring) food discoveries. Here's our list of the most bizarre foods you'll find in the Kingdom of Wonder.
Small clams
In the floating village of Kampong Khleang, we stumbled upon these tiny clams. They're a popular snack food, that you could find in pushcarts across the village. You could get yourself an entire bag full, and snack on it the way you'd snack on groundnuts by the beachside back in India!
Snake on a Stick
A popular snack at the night markets of Siem Reap, snakes can be found on almost all the insect carts. Unlike their Thai counterparts, the ones here are very well presented, in a nice s-shape with a skewer running through the middle. Taste wise as well, these were more flavorful than the ones we found at Khao San Road in Bangkok.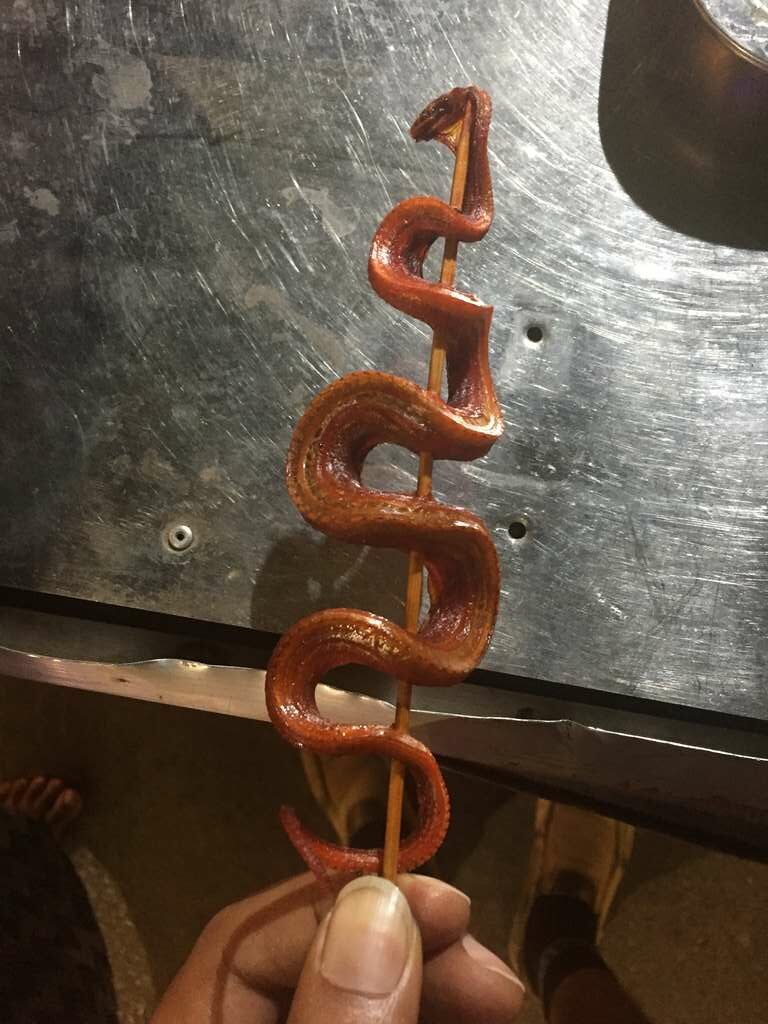 Snake Wine
This is a popular panacea in South East Asia. You'll spot bottles of wine with snakes inside them along all the markets and shops. The idea is that the snake adds a shot of its essence into the wine, thus making the drinker more 'manly'. The ethanol in the alcohol neutralizes the venom of the snake, so it's safe to drink.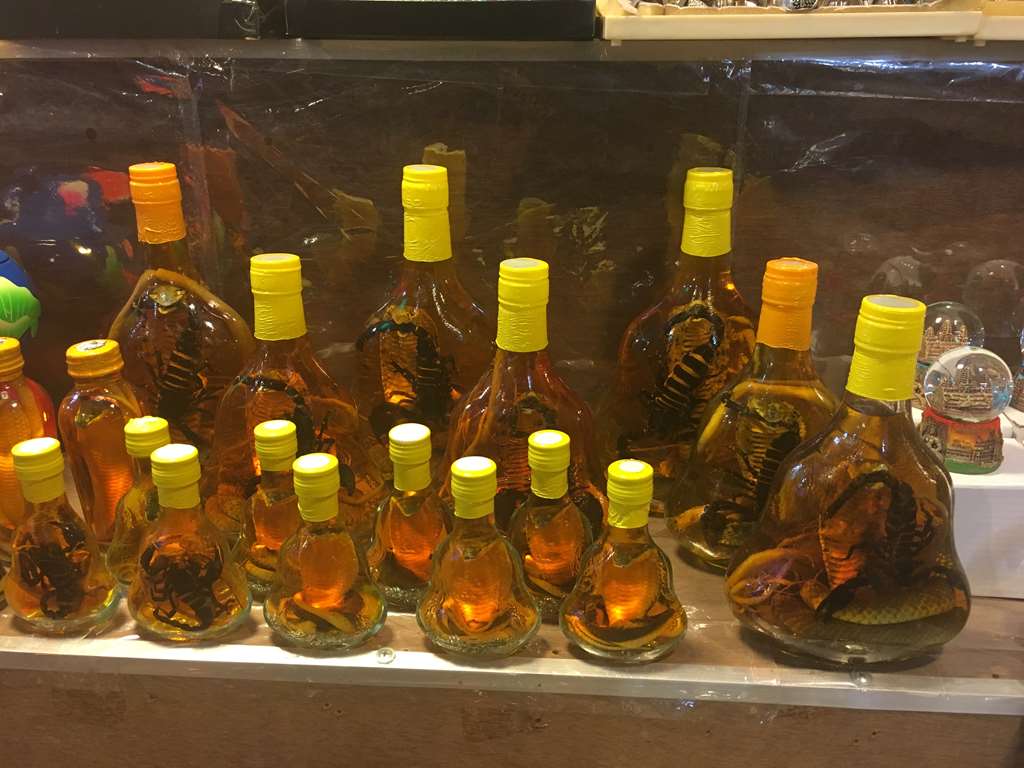 Roasted Frogs
The tradition of eating frogs and insects began in Cambodia during Pol Pot's regime where the locals took to eating anything they could find to survive. Today, these have all been incorporated into Khmer cuisine and are popular amongst tourists as well. Unlike Europe where frogs legs are common, it's not uncommon to see whole roasted frogs in Cambodia, which are a local delicacy.
Fried Tarantula
Like the children's rhyme goes, 'There was once an old man who swallowed a spider'. The night markets of Cambodia are filled with insect carts selling this local delicacy. Would you dare to eat a fried tarantula? To know which Indian snack it tastes like, read: 'Dare Eat That', a guide to bizarre foods from around the world.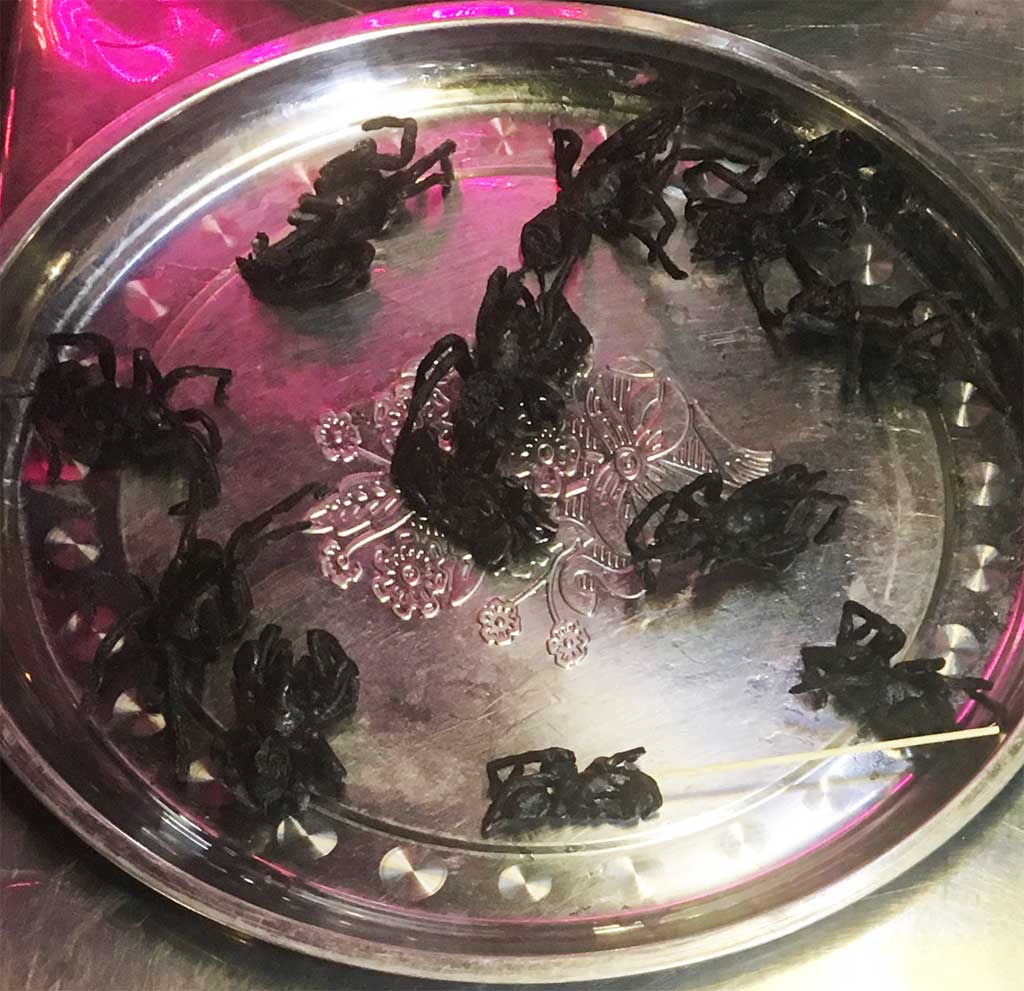 Bonus: If you're worried about eating insects from street side carts, we recommend visiting 'Bug's Cafe' in Siem Reap to try their extensive menu of bug-themed dishes. Our personal favourite was the Bee Larvae soup.